RADIKALER REALIST
20. Juni 2008 | Von
admin
| Kategorie:
Fotografie
LARRY CLARK (*1943)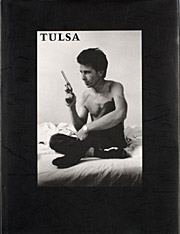 TULSA, 1971/2000
Etliche Fotografen der Popkultur erweiterten in den vergangenen Jahren ihre visuellen Ausdrucksmöglichkeiten mithilfe des Videoclips. Namen wie Anton Corbijn, David LaChapelle, Juergen Teller oder Wolfgang Tillmanns tauchen in diesem Zusammenhang als Regisseure auf, wobei es bei solch leicht verdaulicher Kost der Bewusstseinsindustrie mehr um die Oberflächenspannung geht als um inhaltliche Reflexion. Das ist keine Kritik an den Verursachern, sondern bloße Feststellung.
Okay, es ist doch kritisch gemeint, denn mit der Bissigkeit, inhaltlichen Stringenz, dem wütenden Selbstmitleid und den therapeutischen Selbstheilungsversuchen von Larry Clark, seine Kindheit und Jugend in krassen Bildern zu verarbeiten, sind die oben genannten Herren nicht vergleichbar.
Larry Clark ist ein erfolgreicher und auf hohem Niveau gescheiterter Weltverbesserer, der seit nunmehr über 45 Jahren instinktgesteuert mit "düsteren, traurigen und letztlich ekelhaften Bildern", so eine empörte Journalistin der "New York Times", die jugendlichen Verirrungen und deren redundant als Lebensgefühl bezeichnete Zutaten aus Sex, Gewalt und Drogen dokumentiert. Nach Vorbild seines radikalen Realismus kreierte die Modeindustrie der Neunziger den "Heroin Chic", Martin Scorsese kupferte bei ihm ab, Gus Van Sant und Nan Goldin.
Als würden diese Referenzerweise nicht schon reichen, lehnt es Larry Clark aus Prinzip ab, für einen Tagessatz von 40.000 Dollar Werbestrecken für hippe Jeans-Firmen zu fotografieren. Großzügig überlässt er seinen Nachahmern den Reibach. Ist das nun edel, Dummheit, eine Luxushaltung?
Als der heute 65-Jährige im Jahr 1971 das Buch TULSA, benannt nach einem Kaff in Oklahoma im Verlag Lustrum Press veröffentlichte, kostete dieses "Porträt einer amerikanischen Tragödie" 4,95 Dollar, heute kostet es einen vierstelligen Eurobetrag. Für Larry Clark ist das Buch "ein Grabstein", den er seinen in TULSA abgebildeten toten Freunden gesetzt hat. Entweder haben sie sich aus dem Leben gedrückt oder sind gewaltsam gestorben.
Dieses beklemmende Zeugnis der Trauer, in rauen Schwarzweiß-Bildern, direkt und schonungslos fotografiert ist ohne Zweifel ein Meisterstück, dessen unverblümte Botschaft zu gerne unter den Teppich gekehrt wird: Der unsicherste Ort für Kinder und Heranwachsende ist das Elternhaus. Dies zu ändern, daran ist Larry Clark gescheitert.
Nach TULSA folgten TEENAGE LUST (1983) und THE PERFECT CHILDHOOD (1993/1995), ebenfalls keine leichtverdauliche Nahrung für zartbesaitete Gemüter. Währenddessen wechselte Larry Clark ins Spielfilmfach. Der Erfolg stellte sich schlagartig 1995 mit dem Skandalfilm KIDS (ab 16 Jahren) ein, dem ersten Teil einer von Sex, Drogen, Gewalt und Verzweiflung handelnder Triologie, die im Milieu der Rollbrettfahrer spielt.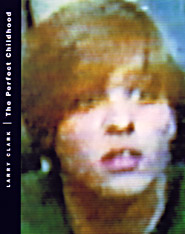 THE PERFECT CHILDHOOD, 1995
Als Regisseur von ANOTHER DAY IN PARADISE (1999) mit Melanie Griffith und James Woods in den Hauptrollen landete Clark einen Flop. Mit Teil zwei der Triologie BULLY (2001, ab 16 Jahren) und schließlich KEN PARK (2002, keine Jugendfreigabe), wurde Larry Clark endgültig zum Angriffsziel der Sittenwächter.