4 WÄNDE
5. April 2010 | Von
admin
| Kategorie:
Fotografie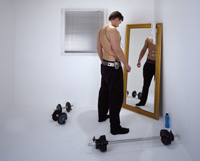 »4 Wände« nennt Ruhrakademie-Diplomand Dennis Zimmermann seine fotografierte Abschlussarbeit. Ausgangspunkt der offenen Arbeit ist ein fiktives Haus mit zehn fiktiven Wohnparteien, in dem die »Bewohner« auf oberflächlich höflicher Distanz zueinander leben und unterhalb der Oberflächenkruste in ihren »4 Wänden« die falschen und echten Hoffnungen, Sehnsüchte, Wünsche, Träume, Ängste, ihre Fluchtgedanken in der Anonymität der Privatsphäre ausleben können. Es ist eine »vielleicht«-Arbeit, die mittels inszenierter Fotografie weder nach einer Antwort sucht noch einen Lösungsweg aufzeigt.
Man kennt die Zufallsbegegnungen im Treppenhaus, die ins Rituelle erstarrte Konversation in belanglosen Füllsentenzen, ein freundliches Nicken zum Nachbarn, dann verschwindet man nach Möglichkeit wieder hinter seiner Wohnungstür, um ein Gespräch zu vermeiden. Schließlich sind die Nachbarn nur zufällige Nachbarn, mit denen man zufällig im selben Haus wohnt. Mehr nicht. Es sind keine Familienmitglieder, Freunde, gute Bekannte. Zu den Nachbarn wird im Idealfall freundliche Distanz gehalten. Deshalb beginnt auf der Fußmatte vor der eigenen Wohnungstür die soziale Grenzziehung zu den Nachbarn. Das Private hinter der Wohnungstür geht niemanden etwas an. In der »Burg« der eigenen »4 Wände« fühlt man sich sicher vor den skeptisch prüfenden Blicken der Anderen, fühlt sich geborgen, kann sich verbergen: man ist zu Hause.
»Cocooning« ist ein Ausdruck aus dem Tierreich für das Eingekapselt-Sein in den eigenen »4 Wänden« eines sozial ausgesuchten Gefüges, für das Abschotten, Ab- und Ausgrenzen von Personen, die nicht über die gleichen Kapitale wie Schulbildung, Einkommen oder das entsprechende biologische Kapital verfügen. Manch einem Analytiker gleicht das Wohnen in Ordnungssystemen nach DIN-Normen, in genormten Raumhöhen, Zimmergrößen, genormten Einbaumöbeln dem Aufenthalt in einer »Legebatterie«. In anderen Vergleichen in Bezug auf die Wohnsituation fällt der Ausdruck »Mietkaserne«. Milieuzeichner Heinrich Zille spricht angesichts der Lebensumstände in den Arbeiterquartieren von einem steinernen Zwangsinstrumentarium der Ökonomie, dass man »einen Menschen mit seiner Wohnung erschlagen« könne. Nach Foucault Repressionstheorie sind die »Wohnfabriken« Quartiere der gegenseitigen sozialen Kontrolle, wo die Körper in ihrem Verhalten, beim Ausleben ihrer Triebe und Kräfte die Selbstdressur einüben.
Dass zu jeder marxistisch eingefärbten Architekturkritik und Gesellschaftstheorie des Wohnens mindestens eine Gegenposition existiert, verdeutlicht vor allem eins: Das Privatleben und das zivilisierte Wohnen sind nicht einfach nur das, was sie scheinbar sind, sondern sie sind durchtränkt von ideologischen Kalkülen, die je nach Denkklima an die jeweiligen gesellschaftlichen Verhältnisse angepasst werden.
Steigt man aus der Vogelperspektive der Analytiker hinab in die Niederungen der »4 Wände« eines fiktiven Zehn-Parteien-Hauses, zeigt sich Dennis Zimmermanns Gespür für die Absurditäten des Alltags. In nüchtern protestantischer Abneigung gegenüber dem Ornamentalen verzichtet er bei der Ausgestaltung der »4 Wände« auf das Überflüssige. Im Zentrum seiner Überlegung steht das Wittgensteinsche »Vielleicht«. Jede der zehn inszenierten Raum-Fotografien stellt eine Situation dar, wie sie in der realen Zufallsgemeinschaft eines Zehn-Parteien-Hauses denkbar wäre, wenngleich sie genauso gut auch ganz anders sein könnte.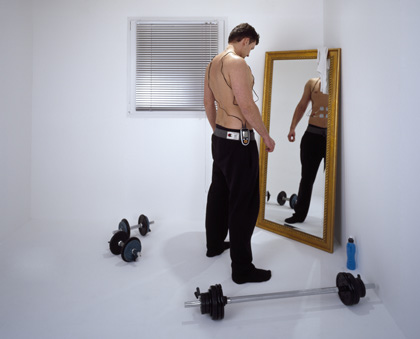 Der fotografische Realismus, der einst im Verdacht stand die Wirklichkeit aufzuzeigen ist eine längst als Bewusstseinstrübung enttarnte Illusion. Die Wirklichkeit ist dreidimensional, farbig, voller Geräusche und Gerüche, die eine schweigende, (bis auf die verwendete Chemie) geruchslose und letztlich zweidimensionale Fotografie niemals wiedergeben kann. Fotografien können weder die Wirklichkeit zeigen noch können sie lügen oder wahr sein. Fotografien sind für den einstigen Leiter der fotografischen Sammlung im Museum of Modern Art (MoMA), John Szarkowski: »Figments from the Real World«, der Wirklichkeit entnommene Einbildungen. (z. n. »Das konstruierte Bild«, Edition Stemmle, 1989/1995)
Dennis Zimmermann ist Autor und Konzeptioner seiner »der Wirklichkeit entnommenen Einbildungen«, Bühnenbildner und Requisiteur der »4 Wände«, Techniker an der Fachkamera und am Rechner in einer Person. Die High-end-Scans, die »Ausbelichtungen« am Plotter und die Veredlungen sind von ausgewiesenen Fachbetrieben realisiert worden. Das klingt nicht nur nach aufwendiger Arbeit, es ist tatsächlich auch so aufwendig wie es klingt.
# Der dargestellte etwa 30-jährige Mann vor dem Spiegel geht vielleicht einem Traum nach. Er könnte auch auf ein Werbeversprechen der Körperindustrie hereingefallen sein, das ihm ohne eigenes Zutun ein austrainiertes Sixpack verspricht. Die lästige Arbeit am Körper soll ein batteriebetriebener »Bodyformer« übernehmen, der die vernachlässigte und quälend mühsam zu trainierende Bauchmuskulatur wieder in Form bringt. Als Beweis des guten Willens liegen Hanteln und Expander bereit. Die gefüllte Trinkflasche rechts im Bild, vermutlich enthält sie ein isotonisches »Sportgetränk«, soll vor Dehydrierung schützen.
Die »4 Wände« dienen dem jungen Mann als simuliertes Boot Camp, Fitnessstudio, Muckibude. Dennoch wird die Szenerie von einer unfreiwilligen Komik getragen, wie sie früh morgens in den Werbeblöcken von Privatsendern und auf Verkaufskanälen zu bewundern ist. Übrigens: Der triviale Bauchmuskel-Vibrator ist aus dem Frühjahrssortiment eines großen Kaffeerösters. Schließlich gehören Fitness, sportive Ausdauer, ein trainierter Körper, jugendliches Aussehen zu den Chiffren der Leistungsgesellschaft.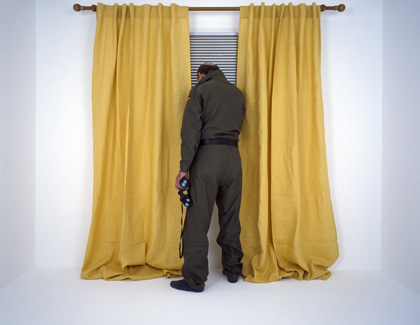 # Auf einer anderen Fotografie steht ein Mann in heimlicher Beobachterposition vor einer herabgelassenen Jalousie. Umrahmt ist er von einem schweren Vorhang, der von der Stofflichkeit an ein Schlaf- oder Wohnzimmer erinnert. Das Haupthaar des Mannes ist schütter. Er trägt olivgrüne Kleidung der Bundeswehr. Den linken Jackenärmel zieren die schwarzrotgoldenen Nationalfarben Deutschlands. In der Linken hält der Mann ein Fernglas. Was hat er damit vorhat, bleibt offen. Eine naheliegende Ausdeutung wäre, dass der Mann durch einen Lamellenspalt der Jalousie die Nachbarn in den gegenüberliegenden Häusern beobachtet. Sehen und nicht gesehen werden. Ist er vielleicht ein Spanner? Warum trägt er dann einen Bundeswehr-Drillich? Merkt er sich die Kennzeichen von Falschparkern? Ist er vielleicht Zeuge einer Straftat? Beobachtet er zum Zeitvertreib das Treiben vor der Haustür statt sich vor den elektronischen Wohnzimmer-Altar in der altdeutschen Schrankwand niederzulassen?
# Die Situation verheißt wenig Gutes. Ein karger Tisch, ein Stuhl, ein in Gedanken versunkener junger Mann, der mit einem Lappen eine Pistole reinigt. Das Licht auf der Fotografie ist gedämpft wiedergeben. Ist die Situation wie sie scheint? Womit ist der junge Mann in seinen Gedanken beschäftigt? Was plant er? Ist er vielleicht tief verzweifelt, vom Leben angeödet und verfolgt die Absicht, sich zu suizidieren? Will er jemand anderen körperlich schädigen? Vielleicht reinigt ein Waffennarr sein scharfes Spielzeug? Eine Antwort auf die Fragen lässt die Fotografie offen.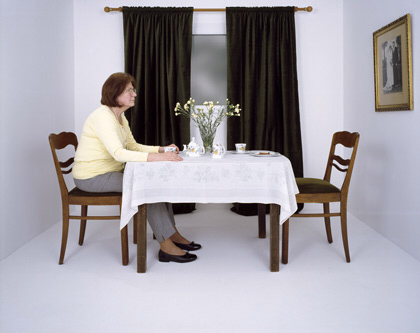 # Eine ältere Frau sitzt nachdenklich am eingedeckten Kaffeetisch. Direkt gegenüber ist der Sitzplatz leer. Der Stuhl ist nach hinten gerückt. Es sieht aus, als hätte jemand den Raum verlassen. Auf den Tellern liegen Kuchenstücke. Feiner Dampf aus den Tassen lässt auf frisch gekochten Kaffee schließen. Eine Alltagssituation, die sich genau so abspielen kann, ohne dass ihr eine Bedeutung beigemessen wird. Wer zu Besuch bei der älteren Frau ist, lässt die Fotografie in der Schwebe. Ein dezenter Hinweis auf die Witwenschaft der Frau ist am Ringfinger ihrer rechten Hand und an einer im Stil vergangener Zeit aufgenommenen Hochzeitsfotografie an der Wand zu erkennen, auf die sie vermutlich ihren Blick richtet. Sie trägt zwei Eheringe, ihren eigenen und den ihres verstorbenen Mannes. Vielleicht ist der für zwei Personen eingedeckte Tisch ihre Bewältigungsstrategie, über den Verlust des langjährigen Ehepartners hinwegzukommen. Vielleicht.
Die Fotografien (1,20 m x 0,95 m) zu »4 Wände« sind von Dennis Zimmermann mit einer analogen Großbildkamera im Format 4 mal 5 Inch auf niedrigempfindlichen Diapositiv-Material aufgenommen worden. Nach dem Scannen der Diapositive, der Bestimmung des optimalen Farbraums, wurden die Bilddaten am Tintenstrahldrucker »ausbelichtet«, die Vergrößerungen auf Aludibond kaschiert, die Bildoberflächen mittels drei Millimeter starken Plexiglasscheiben veredelt.
Auffällig an den zehn Tableaus von Dennis Zimmermann ist ihre Nüchternheit. Eine Sachlichkeit, die ihre Vorbilder in der Düsseldorfer Schule findet, in Ansätzen bei Jeff Wall oder Gregory Crewdson, wobei es vor allem Jeff Wall darum geht, das »Dokumentarische« in seinen Fotografien ad absurdum zu führen, dass die scheinbar wiedergegebene Realität auf einer Fotografie eine »Einbildung« ist.
Letztlich – und das ist auch die Botschaft von Dennis Zimmermanns Fotografien - geht es in der inszenierten Fotografie um das Jonglieren mit Bedeutungsebenen.
Öffentliche Diplompräsentation

Dennis Zimmermann: 4 Wände
9. April 2010
13 bis 18 Uhr
Ruhrakademie
Hagener Straße 241
58239 Schwerte