EIKOH HOSOE
17. März 2010 | Von
admin
| Kategorie:
Fotografie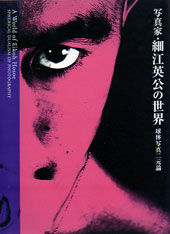 Eikoh Hosoe (*1933) zählt zu den bedeutendsten zeitgenössischen Photographen weltweit. Pünktlich zu seinem 77. Geburtstag eröffnen wir am 19. März unter Anwesenheit des Künstlers eine Ausstellung mit Arbeiten der Serien Kamaitachi, Ukiyo-e Projections und Butterfly Dream. Seit mehr als einem halben Jahrhundert schafft Hosoe einzigartige Werke, die seinen innovativen und meisterhaften Umgang mit der Photographie verdeutlichen. Sie wurden in zahlreichen Einzelausstellungen in Japan, Europa und den USA präsentiert und sind weltweit in Sammlungen bedeutender Museen zu finden.
Theater der Erinnerung zeigt erstmals seit über 30 Jahren eine Einzelausstellung Hosoes in Deutschland. Die Ausstellung entstand in Zusammenarbeit zwischen dem Japanischen Kulturinstitut, den Kuratoren des Studio Equis sowie dem Druck-Spezialisten Epson.
Schon früh in seiner Karriere legte Hosoe den vorherrschenden Stil der Nachkriegszeit ab und schuf Werke, die Experimentierfreude bewiesen und neue Freiheiten im photographischen Ausdruck eröffneten. In der Auseinandersetzung mit Mythologie, Metaphern und Symbolismus sprengte er die Grenzen der traditionellen Photographie und schlug eine Brücke zu anderen künstlerischen Disziplinen wie Tanz, Theater und Malerei.
Einen Namen machte sich Hosoe erstmals Ende der 1950er Jahre mit den Serien Man and Woman (Otoko to onna, 1959) und Ordeal by Roses (Barakei, 1961-62), das herausragende Ereignis für seine weitere Entwicklung aber war die Begegnung mit Tatsumi HIJIKATA, einem der Begründer des Butoh-Tanzes. Fasziniert von dessen kontrovers rezipierten Performances in Tôkyô begann eine Zusammenarbeit, die in Hosoes wohl berühmtester Serie Kamaitachi (1965-68) gipfelte.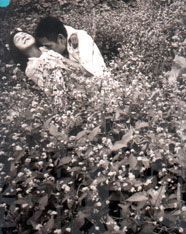 Die Beziehung zu Hijikata führte auch zu den Aufnahmen eines anderen legendären Butoh-Tänzers, Kazuo OHNO. Mit ihm schuf Hosoe die Serie Butterfly Dream (2006), die ebenfalls in der Ausstellung zu sehen ist und anlässlich des 100. Geburtstages von Ohno enstand.
Hosoes jüngste Farbserie Ukiyo-e Projections (2002-03) inszeniert ein "Photographisches Theater", bei dem erotische Holzschnitte (shunga) auf die weiß geschminkten Körper einer Gruppe von Butoh-Tänzern projiziert werden. Die Serie entstand in Zusammenarbeit und als Hommage an das Tanzstudio von Hijikata.
Die Ausstellung stellt aber nicht nur die herausragende Kreativität von Hosoe unter Beweis, sondern zeigt auch, in welchem Maße digitale Tintendrucktechnologie künstlerische Phantasie befreit und zahllose neue Arten des photographischen Ausdrucks ermöglicht. Als erster Künstler überhaupt hat Hosoe seine auf japanischem Washi-Papier gedruckten Werke auf traditionelle Bildformate wie Stellschirme, Hänge- und Querrollen montiert. Dabei hat er mit verschiedenen Papieren experimentiert und die neuesten Drucktechniken und Pigmenttinten von Epson eingesetzt. Alle Werke der Ausstellung wurden von Epson gedruckt und zum größten Teil mit dem Gütesiegel Digigraphie© zertifiziert.
Zur Eröffnung am 19. März 2010, ab 19 Uhr sind Sie und Ihre Freunde herzlich eingeladen. Im Rahmen der Eröffnung wird eine Kurzfassung des Tanzstückes MENUT von Takako SUZUKI (Choreographie) und Axel Dörner (Komposition und Musik) aufgeführt, das im Rahmen des Kazuo Ohno Festivals 2009 in Yokohama entstanden war.
Text: Japanisches Kulturinstitut
Termine:
Eröffnung: 19. März 2010, ab 19 Uhr
Eikoh Hosoe
Theater der Erinnerung
Japanisches Kulturinstitut (The Japan Foundation)
Universitätsstraße 98
50674 Köln, Germany /
Öffnungszeiten an Werktagen
Mo. – Do. 9 – 13 + 14 – 20 Uhr
Fr. 9 – 13 + 14 – 17 Uhr
Öffnungen an Wochenenden
Sa., 20.3.10
So., 25.4.10
Sa., 22.5.10
jeweils von 13 – 18 Uhr
Eintritt frei / Entrance free
Zur Ausstellung erscheint ein Katalog.