SCHUHTICK
30. September 2009 | Von
admin
| Kategorie:
Fotografie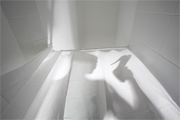 Warum elektrisieren Schuhe die Kaufreflexe von Frauen? Dieser heiklen Frage ist Christine Hartwig nachgegangen. Ihre Antwort ist eine Parabel auf die bizarre Medienwelt, die in trauter Koexistenz mit dem Konsum spezielle Körperempfindungen erzeugt. Und deswegen muss man die Geschichte auch von Anfang an erzählen.
Im Darwin-Gedenkjahr wird einem die Archaik der Existenz noch einmal deutlich vor Augen geführt, dass die beanspruchte Einzigartigkeit der hirnbewehrten Neandertaler auf einem Versehen beruht. Zur klaren Anschauung führt ein Experiment in das Versuchslabor der Popkultur, wo ein x-beliebiger Star die Rolle einer fröhlich surrenden Biene annimmt. Es geht darum zu testen, inwieweit die duldsame Kommunikation eines Frauenschuhs ihren Einfluss auf das Verhalten der Biene im Mann ausübt.
BLOW UP
Den amüsanten Popkulturtest hat Borderline-Autor Tom Kummer der Journaille untergejubelt. Mit Charles Bronson, dem Action-Kinostar aus den siebziger Jahren, unterhielt er sich über »Das Innenleben von exotischen Pflanzen«. Für das in zwanzig Länder verkaufte Interview, das in Wirklichkeit nie stattgefunden hat, sondern ein Monolog des Fakers Tom Kummer am Küchentisch seiner Wohnung in L.A. war, müsste man ihm ein Denkmal setzen. Stattdessen knüpften ihn seine humorfreien Auftraggeber an den höchsten Baum des Landes, damit er dort solange zappelt, bis ihn die Phantasie verlässt.
AVATARE
Lange bevor sich Erika Mustermann und Otto Normalverbraucher im virtuellen Raum eine gepimpte Halbprominenz zulegten und ihre Avatare gezielt nach ihren Hoffnungen, Wünschen und Sehnsüchten frisierten, hatte »Starreporter« Tom Kummer die Spielregeln der gierigen Medienwelt längst durchschaut und für seine Zwecke umgeschrieben.
Das wahre Bronson-Interview im Zeitalter des Fälschung vermittelt nämlich die bitterironische Kummer-Botschaft: Das stromlinienförmige Neonbaby auf Killer-heels möchte die Hirnwindungen der Biene im Mann aus der Fassung bringen. Als Grundmotiv nutzt das Neonbaby seinen hungrig gegeißelten Heroinenkörper, der auf einen im Fitnessstudio gemeißelten Kitsch-David trifft. Und wenn sie nicht gestorben sind, dann modellieren sie an sich weiter.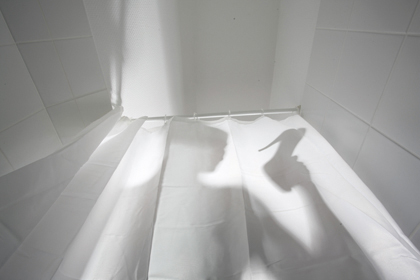 Auch wenn das Traumpaar ihre Körperrepliken für modern hält, so hat sich diese Marketingidee längst im Fegefeuer der Eitelkeiten verbrannt. Denn nach dem Leitsatz der Kommunikationsguerilla von Roland Barthes ist es die beste Subversion die Codes zu verändern, statt die Codes zu zerstören. Wer hingegen einzig die Codes auf dem Kopierer der Popkultur vervielfältigt und die Kopie der Kopie mit seiner Individualität verwechselt, verliert auf Dauer an Integrität.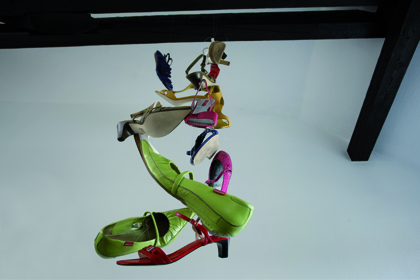 15 MINUTEN
Die Aneignung gehört zum Wesen der Popkultur. Vorgefundenes wird imitiert, simuliert, enteignet, im Shredder zerkleinert, neu zusammengesetzt und der Verwertung zugeführt. Nirgendwo sonst ist die Neuauflage von Ideen so stilprägend wie in der Popkultur. Es folgt dem Versprechen, dass jeder eine Viertel Stunde lang berühmt sein kann. Und falls das mal nicht auf Anhieb klappt, ist die Selbsterfindung ein probates Mittel, der biographischen Blässe eine interessante Färbung zu verleihen.
Im Zeitalter der Fälschung haben die »Fake-anger« ihren Aberteuerspielplatz in der Medienwelt gefunden. Als Überlebensnahrung für die letzten Mutproben auf dem Planeten liefert ihnen die Marketingfabrik die vorgekauten Häppchen gleich mit. Im mitgelieferten Service-Wohlfühlpaket liegt die Gebrauchsanweisung zur Aneignung eines Looks, eines Images, um sich nicht im wildwüchsigen Unterholz der Illusion und Simulation, der Imitation und Echtheit zu verfangen.
Es ist schade, dass Fabrikdirektor Warhol die Umstellung der Produktionsabläufe von der reinen Handarbeit auf die Robotertechnik nicht mehr miterleben kann. Vielleicht gibt er gerade aus dem Sarg seine Klopfzeichen, die unmissverständlich auf die »Philosophie von A bis B« hindeuten: »Es ist so aufregend. Ich werde zu jeder Eröffnung gehen, selbst zu der eines Toilettendeckels.«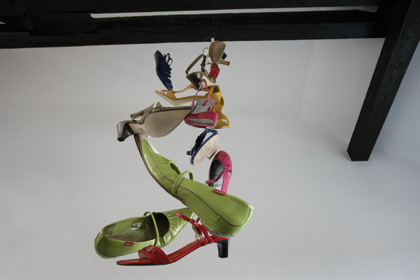 Nachdem die Spielekonsole der Wirklichkeit eingeschaltet ist, wird es an der Zeit, auch den linken Schuh in die Netz-Arena zu werfen. Denn organische Gefühle im virtuellen Leben äußern sich erst wirklich an den Transitorten der Datenautobahn. Dort hat sich die Preisgabe von Privatem, die anonyme Stilisierung eines vorgefundenen Stils zu einem Volkssport entwickelt. Schließlich wird an den virtuellen Tankstellen der Datenautobahn Freibier für alle ausgeschenkt. Dort kann sich jedermann an sich selbst berauschen und vom konstruierten Selbstbild besoffen ins schwerelose Wachkoma fallen.
So ähnlich liest sich die Geschichte von »StudiVz«. Ein cleverer IT-Spezialist adaptierte für den deutschen Markt die internationale Plattform »Facebook«. In feinster popkultureller Manier stellte er im Verbund mit ein paar anderen Jungpionieren eine zielgruppenspezifische Tankstelle ins Netz, an der sich Studierende zu virtuellen Plauderrunden treffen können.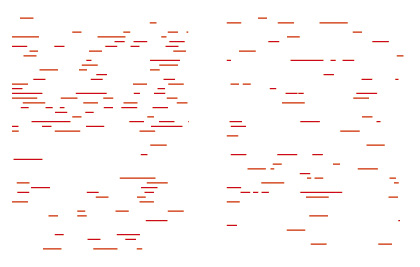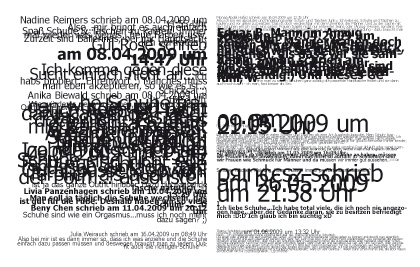 Nach bewährter Verfahrensweise kaufte ein realitätssatter Verlag die Plattform »StudiVz« für eine zweistellige Millionensumme und hoffte auf diese Weise eine überraschende Rochade vollzogen zu haben. Der Marketing-Schachzug sollte die Nutzer von »StudiVz« elegant an die ins Straucheln geratenen Druckerzeugnisse des Verlages heranführen. Immerhin versteht sich das Hauptblatt in der privilegierten Position eines Schiedsrichters von so genannten Wertedebatten.
Es ist kein Geheimnis: Wunschdenken bringt selten den erhofften Erfolg. Und so ist auch das Verlagshaus über den Einkauf von »StudiVz« nie wirklich glücklich geworden. Hinter der perfekten PR-Maske machen sich die Sorgenfalten breit. Wie es heißt, steht noch ein multimillionenschwerer Rechtsstreit im Raum, dem der weich abgefederte »StudiVz«-Gründer offensichtlich entspannt entgegensieht. Aber muss das vornehme Gerangel einen Diskutanten interessieren? Falls der Stecker aus dem Netz gezogen wird, entsteht irgendwo anders eine andere Plattform.
SCHUHTICK
In einem assoziativ gestalteten Buch »Schuhtick« illustrierte Christine Hartwig die Wortschleifen einer Gesprächsrunde auf »StudiVz«. Über die Rhythmik der Aussagen legte sie ein Raster, das dem Inhalt einen zeitgenössischen Musikcharakter verleiht. Damit auch Männer der Frauendiskussion technisch folgen können, montierte sie formalästhetische Leitplanken. Denn erst auf dem zweiten Blick in die »historisch-kritische Gesamtausgabe« der Plauderrunde erschließt sich, worüber die Studentinnen mit Christine Hartwig eigentlich redeten: Sie plauderten alltagstauglich über ihre sanften Freudenschauer, wenn sie vom Trend-GPS geleitet auf Beutezug gehen.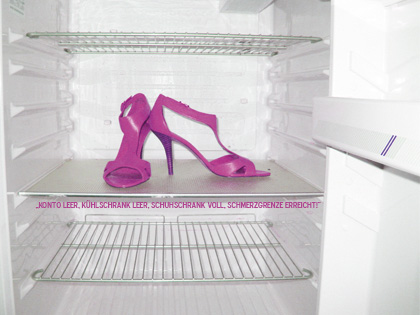 Wer schön, reich, sexy sein will, muss nach einem ungeschriebenen Gesetz der Körperindustrie leiden. Drückt der Schuh zum denkbar ungünstigsten Zeitpunkt, hat das Körper-Ego nichts mehr zu melden. Einzig ein dezent heruntergeschlucktes »Autsch« gibt einen Hinweis darauf, dass Erwartungen an die eigene Vervollkommnung versagen, wenn die Skulptur Körper an natürliche Grenzen stößt.
Eine Mutmaßung legt den Schluss nahe, dass eine ähnlich lebensfrohe Modediskussion mit Studenten die gleichen Stressfaktoren freilegen würde wie die von Lustigkeit und einem positiven Zukunftsgefühl getragenen Aussagen der befragten Studentinnen. Kaum jemand kann sich der süßlich verführerischen Bilderwelt der Konsum- und Körperindustrie widersetzen. Das Bilderbombardement mit virtuellen Körpern nährt jedermanns private Wunschvorstellung nach cooler Perfektion. Es generiert Zerrbilder der aufgeladenen Leerstellen, deren Umdeutung ins genaue Gegenteil zu den Spielarten der Spaßguerilla gehört. Getreu dem Beastie Boys Motto: »You gotta fight for your right to party!«
Vor dem skizzierten Hintergrund kann man Christine Hartwigs 330 Seiten starkes Buch als das gestaltete Protokoll eines 15-Minuten-Stücks Popkultur verstehen. Den Wort-Zitatpop formte sie am digitalen Designer-Mischpult zu typographischen Decollagen, deren gutenbergscher Gleichklang sie im optischen Kapitel des Buches mit einer visuellen Frischzellenkur konterkarierte. Inhaltlich interessant ist an den Wortbeiträgen, wie vertraut einige Statements klingen als stammten sie aus Sarah Jessica Parkers Sprechrolle in »Sex And The City«. Zufall, Absicht, Fake? In jedem Fall Popkultur.
Fotos/Typographie©Christine Hartwig